Introduction to Electrical Audits and the need for automation
Comprehensive electrical safety audit can provide a thorough review of the electrical system. This could identify potential electrical hazards, flaws in the design system, maintenance system, etc. At present electrical safety audits are carried out as per Central Electricity Authority 2010 Regulations for Safety and Electricity Supply. Manual audits are performed at specific schedules and perform the job of inspection, testing and periodic tests in a facility. The fact is that compliance with the latest requirements for electrical safety in hospital and public places in Maharashtra across all facilities will take 20 years if it were to be performed manually. A new form of safety audits is now possible via automation, where devices like Smart DBs & Smart Optimizers offer automated electrical audit and real time protection. These automated electrical time audits are made mandatory for all hospital and public spaces in Maharashtra as per Maharashtra Govt circular No: 2021/114/urja5.
What is made mandatory by Maharashtra Govt ?
In response to the several fire incidents in hospital and temporary COVID centers across India, the Ministry of Home Affairs had circulated guidelines on 4th May 2021: F. No. VIII-110111/02 (Adv)/2020-DGCD (F).
Maharashtra had decided to implement it's own protocol for electrical safety in GR No: 2021/114/urja5. In order to prevent fires and in accordance with Central Electricity Authority 2010 Regulations for Safety and Electricity Supply, the following 8 items are mandated :
Proper selection and quality checks of cables, distribution boards, meter rooms and panels
Regular inspection and checks
Following standards for earthing as per IS3043
Use of ELCB/RCCB
Use of personnel protective equipment
Ensure operation at correct voltage levels
Use of smoke alarms and fire fighting systems in high rise buildings
Use of IOT based electrical parameter monitoring and reporting on cloud
What type of IOT based devices are currently available?
The latest government regulations require the need to monitor 14 electrical issues such as arcing, short circuit, over current, earth leakage, over voltage, under voltage, phase loss, phase reversal, neutral loss, voltage quality, loads with low power factor, harmonics, inrush currents and unbalanced currents.
POWEReasy range of IOT devices by Jhaveri Power Labs not only cover 14 of these electricity issues but is NABL approved to identify 20 types of electrical faults and provide early detection of electrical faults with root cause analysis. The key advantage of implementing the POWEReasy solution is the proactive support that monitors electricity usage remotely from a command center. This is the only way to ensure not only early identification but a constant follow up to actually fixing the problem
POWEReasy Smart Systems Enabling Audits & Corrections via the Command Center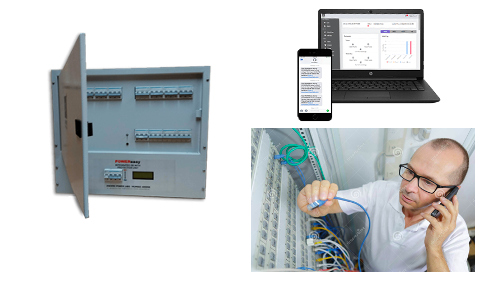 What is the implementation timeline for IOT based electrical protection?
| | | | |
| --- | --- | --- | --- |
| Timeline | Step | JPL resources | Client resources |
| Day 1 | Site audit via VC | Command center | Site representative |
| Day 1 – 2 | SLD Creation | Command center | |
| Day 3 – 4 | SLD finalization & shutdown planning | Service engineer | Admin, site representative, electrician |
| Day 4 – 6 | Site Preparation | | Site representative, electrician |
| Day 7 | Installation & Commissioning | Technician, command center | Site representative, electrician |
| Day 7 – 14 | Remote monitoring | Command center | |
| Day 16 | Weekly audit report with recommendations | Service engineer | |
| Day 16 – 18 | Corrections at site based on recommendations | Technician, command center | Site representative, electrician |
| Day 18 – 20 | Remote monitoring | Command center | |
| Day 21 | Handover of site after documenting corrections and open issues | Service engineer | Admin, site representative, electrician |